Medium: Manga
Fandom: Codename: Sailor V
Subject: Kaitou Ace/Sailor V
Title: This Broken Road
Warnings: Spoilers for the whole series.
Notes: As usual, songs were chosen more for their tonal value than for their lyrics. Also, I am still working on the fic drabbles between tracks, but I figured I'd post the mix anyway.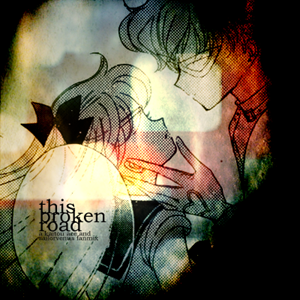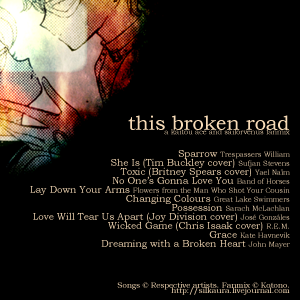 Tracklist:Sparrow
Trespassers William
She Is (Tim Buckley cover)
Sufjan Stevens
Toxic (Britney Spears cover)
Yaël Naim
No One's Gonna Love You
Band of Horses
Lay Down Your Arms
Flowers from the Man Who Shot Your Cousin
Changing Colours
Great Lake Swimmers
Possession
Sarah McLachlan
Love Will Tear Us Apart (Joy Division cover)
José Gonzáles
Wicked Game (Chris Isaak cover)
R.E.M.
Grace
Kate Havnevik
Dreaming with a Broken Heart
John Mayer


Aino Minako is a girl made of love stories. She thrives on the warmth of a lover's attention and the light she can bring to a worthy admirer. Her being is composed of a long string of romances as far back as her past incarnations extend.

This story has romance. It has all the makings of a story about love. But this is not a love story.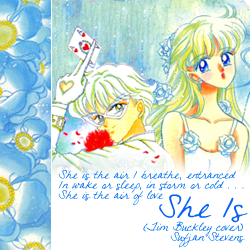 Adonis does not remember the first time he saw her. She had always been present in some form, from royal proclamations to the backs of Venusian coins to the rare moments when he swears he could glimpse her silhouette from a window of her floating castle. She'd been there, hovering, just out of reach.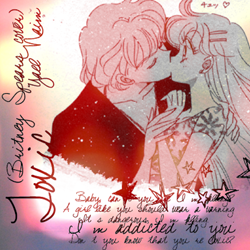 The lights were nearly blinding as he stepped on stage, and the chorus of screaming fangirls drowned every other noise in the studio. Saijou Ace smiled as he stepped up to the microphone. He never quite became used to the attention; the promise of her was enough to keep him in the limelight. As his eyes adjusted to the lights he scanned the crowed for her face, becoming discouraged. But then he saw her, red ribbon in her long hair, and he blushed. Even now she could still intoxicate him.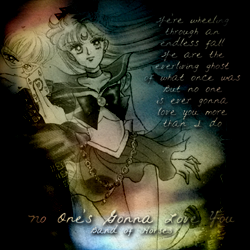 He watched in silence from the rooftop as she fought the demon below, her battle almost a dance. She was more than capable of defeating the foe on her own, so he took his time admiring the way she moved. Like ribbons in sunlight, he thought. Just like Venus. Did she remember? He remembered all too well. Darkness consumed his former life too soon, denying him the chance to confront her.

And now? he thought, smiling to himself. They'd swapped lunar soil for Tokyo highrises, but the scene was still the same: he stood watching his angel of light from the shadows. This time will be different.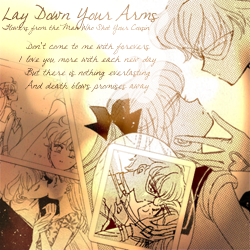 Let me hold you hands, your arms, your sides, the small of your back,
your shoulders and your wrists, your thighs, your ankles,
and I'll find my way inside.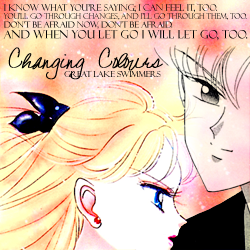 I knew you when you were green and strong.
You were like a feather on a wing, so long.
You know I will miss you when you are gone,
but don't be afraid if you just can't hang on.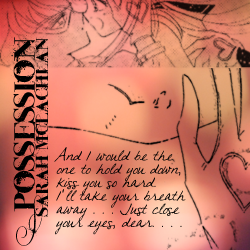 The great cavern blocking out the sky felt more like a prison the longer he stayed. Danburite thought his ploy as Sailor V's ally would alleviate his tension, but the closer he came to the still-unawakened princess the greater his mania grew. His feelings hadn't died with the Moon Kingdom. The energy he'd collected felt dull now. His want for her breath, her hair, her laughter was beginning to drive him mad.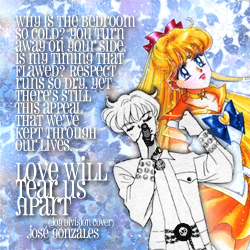 Do you cry out in your sleep? All my failings exposed
gets a taste in my mouth as desperation takes hold.
Why is it something so good just can't function no more?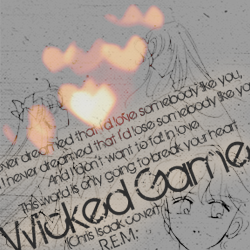 The world was on fire, and no one could save me but you.
Strange what desire will make foolish people do.
I never dreamed that I'd love somebody like you,
and I never dreamed that I'd lose somebody like you.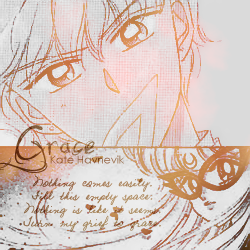 He would remember little from this present life. As his body disintegrated into fine white mist he focused the view above. It was all he wanted to remember: the lights of the city and her face, so beautiful.

The fortune, of course, was meant for him, too. If she would always choose duty, then his love would remain unrequited. He realized now that it didn't matter how many times they were reborn. The road they would walk would always be broken.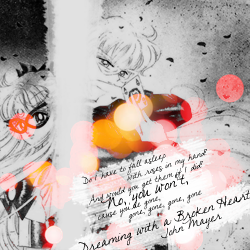 This has also been added to the new fanworks section of Ace of Hearts. I encourage you to go check it out, and if you would like to submit fanworks of your own, please do! I am looking to expand that section with work by talented folks like you! :)